Happy Thanksgiving 2014!  Always so much to be thankful for – good health, good friends, new life adventures.  Additionally, spent the past year with Ash & Tom as they saved for their first home – for this I'm most thankful.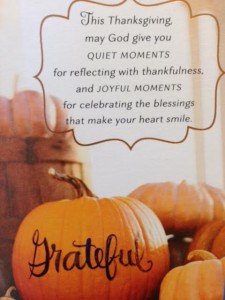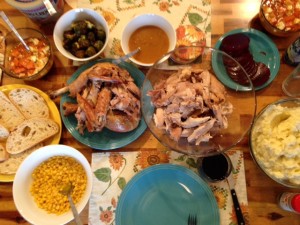 Received more than a sideways glance when Ash & Tom moved in late last year from Jersey.  How long will they be living with you?  Do they have jobs?
Hold tight neighsayers — give it time.  Recipe for disaster?  Heck no!
Ro inherited a brother & I filled my sterile home with cable TV, fantasy football, NatGeo & a fully stocked fridge.
Tom knows Giants, Nets & Beer – and can spot-on imitate most every overplayed TV commercial.
Ash donates to a lotta wildlife charities – birds, wolves, ducks, farm animals, stray pets, ocean creatures.  Huge heart!
Additionally, neither are not afraid to try something new – inks n drinks (painting), glassblowing, geo caching, skiing, high altitude hiking (14er Mt Bierstadt), ice fishing & weekly trivia at more than a few local breweries 🙂
lotta happy positive vibes – crazy impressed with these 2!
Early rise, caught a ride to my 16th Marathon start & located Maniac village.
Route 66 would be my 2nd in our trademark yellow-n-black racing shirts.  Enjoyed a pre-race toast with a runner celebrating his 50th state marathon – fast forward 2 years, this will be me 🙂
Full & half marathon combined start meant a jammed race for 12 miles – but not as bad as Vegas.  I now have a barometer to gauge against.  Lotta runners in Tulsa…but not 44,000.
Went out a bit fast on a hilly course.  Mentally, got to remember to run my own race.  Matching fleet footed half-marathoners is not helping the back half of my race.  1:48 half is quick.  Until I finish sub-4 consistently gotta keep folks outta my head.
Memorable – campus run thru University of Tulsa.  Love marathons routed thru universities – crowd supported & visually easy on the eyes…beautifully landscaped, virtual botanical gardens.  Seen a lotta road this year so I appreciate flora & fauna.
Hills.
Not the Colorado variety where you dig in, blast BIG, let it burn & soon you're flying downside.  Deceptive hills in Oklahoma – gradual inclines which can last for 3 miles.  'Mess with your head' hills – "I'm on flat ground, what's wrong with my legs" hills.
Heading into mile 26, looked forward to seeing family.  Not sure if they'd be waiting near the Finish but just the possibility was motivating.  Nearing the end I heard them – WOW.
Received my medal, Finisher's photo, grabbed a chocolate milk.  I could hear Mom, my family behind the gates.
I reached up, she touched my finger tips, I heard her voice, I heard all of their voices now – one gets crazy emotional after pushing the body to extreme.  Amazing, unerasable experience.
Shower, food, airport – time goes by so fast.  Ash texted a pic of geese wintering on Waneka Lake.  Home.
Bib                                                   Chip Time
1958   K R Haga   Louisville CO     4:32:41
Sure I just ran Vegas last Sunday but that was 6 days ago – time for my 2nd BONUS marathon of the year, Oklahoma's Route 66 Marathon.  Nope, not crazy – just focused on the prize…all 50 states by 2016 year-end 🙂
[small world moment] Met fellow Maniac, Stacy at DIA Saturday morning & boarded a plane to Tulsa – short 2 hour ride.
Another flight, another marathon – nope.  Meeting family on the other end of today's Southwest flight.  FAAAANNNNTASTIC!
20 minute drive to the Runner's Expo at Cox Business Center (downtown Tulsa) for bib pickup AND a quick walk-by of some sexy post-War America rides…vintage Route 66.  Nice job Tulsa – super classy.
From there [we] hit the highway.  My brother scored box seats to a college football game, Arkansas vs. Mississippi.  Ole Miss might be Top 10 but today's game was dominated by the home team 31-0!  Woo pig sooie, go Razorbacks!
Ended pre-race activities back in Tulsa – dinner with Mom, bro, sis-in-law & niece.
3 marathons in a single month (Indy, Vegas & Tulsa) – a new K* record.  Friends & family at all 3 – SPECTACULAR!
7:30 picture time tomorrow morning.  My first run dressed in Maniac yellow, marathon #16.