Have been actively training since last October, the big day is almost here & I find myself mentally paralyzed.
Over the past week…
swam 100 laps – no, not open water but I've got the (Ironman) distance.  Still a slow & steady swimmer, finished in 2:05 – only 15 minutes faster than cutoff.  Gonna have to swim straight ahead this go around, no zigzagging the lake like in Steamboat.
biked 60 miles – Boulder to Lyons, Louisville return (after work).  Valmont was closed for night construction, was detoured almost 10 miles out.  Didn't get home 'til 9pm – and it was dark….don't want to do that again.  Still haven't biked any further than 80 miles in my life (failed Santa Fe Century ride).  112 miles will be quite a stretch.  Don't worry about the bike.  I was wiped at 60; I'm worried.
finished my 9th marathon 2 weeks ago & ran 10 miles last night – felt good, no complaints.  Not expecting to start my Ironman Marathon leg 'til 6pm (best case based on swim & bike times).  That gives me 6 hours to complete before I time out.  17 hour maximum, Ironman finishes at midnight (on 13th & Pearl).
What a journey these past 10 months:
SWIM, BIKE, RUN – only 4 days left.
Surrounding myself with positive energy, it's all mental now.
Jennifer   Remember to keep giving yourself positive talks for Sunday's race-like, "I can do this!" Let's go have some fun. Hard to believe that you can count how close for Ironman on one hand- where did the time go?
Lisa   You got this! Don't exercise anymore….you're not going to improve fitness and better to enter well-rested!! Mental prep now….not physical
Laura   4 days!!! You can do it, Keenan! Can't wait to hear all about it.
Denise   You've got this! Positive vibes going your way!!!
Shane   You'll get it man! It's all mental at this point. You are strong all the way around!
Preston   You'll win it!
Mayoura   You CAN do it!
Chuck   We're all rooting for you!!!!  You will do great!!!
Keenan   I know this post seems super self serving. Greatly appreciate everyone's positive vibes. Much appreciate the love! Thanks!
Mike   I think it was Stuart Smalley from SNL that said "I'm good enough, I'm smart enough and doggone it people like me." You can do it. I'm cheering for you here in AZ.
Ellen   You CAN do this! You do everything you set your mind to. Sending you all kinds of prayer and positive energy, my friend. As you can see, you already have quite a group of cheerleaders. You rock, man!
Kelly   Your body can do almost anything, it is your mind you have to convince  Rest up, stretch, HYDRATE AND EAT!!!! Don't think of the distance, just one more step, one more push, just one more. Relentless forward progression. Crush!!!!
Erin   You got this K*!!!!
Regina   You can do this.
Collette   Yes you can!!!! . I know your confidence has been pushed down a little, but you can do anything you put your mind to. Your body is ready and now it's all about mentally being capable! Give it all you've got and believe you can do it. You have accomplished so much already and have inspired others along the way so it's a win win either way!!! I am so proud of you!!!
Krissy   you can do this!
Karen   Exact ditto to what Lisa said! There's power in prayer and I am sending them upward for you. Your determination has never stopped you before–look up, then look forward.
Sharon   You will do great, have faith in yourself and it will go just fine. you can do it.
Stephen  you are a winner, Keenan!!!
Kausalya  Good Luck
Inspiring Ironman Triathlon Finish (short 2 minute video)
This video is a great glimpse into the unique culture of the Ironman triathlon. The time cutoff is 17 hours (midnight). We shot this video at 8 minutes past midnight, of the last finisher crossing the line. Notice the professional male and female winners at the finish, who by tradition stay to welcome the last finisher.
Boulder Daily Camera (local news)
Boulder braces for world's largest Ironman
In less than a month, thousands of athletes will be splashing through Boulder Reservoir, riding on county roads and running along the Boulder Creek Path for the city's inaugural — and the world's largest — Ironman triathlon.
Ironman Boulder: 140.6-mile race draws competitors of all ages, motivations
Some might say it's fitting the biggest race in the history of the Ironman brand would take place in Boulder, which has become a training hotbed over the years for elite athletes from all over the world. It's really no surprise the race sold out here in less than a week more than a year ago. This community seems to be filled with people who love to challenge themselves after all.
And make no mistake, a full Ironman at a mile high altitude in the blazing August sun figures to be the mother of all challenges.  Competitors will attempt to conquer a 2.4-mile swim at Boulder Reservoir, a 112-mile bike ride that will take them near Fort Collins and back and a full marathon course through the streets of Boulder and the countryside of Boulder County. They will have 17 hours to do it.
So who are these people and are they nuts?
Some always have been driven, type-A personalities. Others used to be couch potatoes. They range in age from teenagers to well into retirement and they have different motivations for wanting to push their bodies to their physical limits.
This much is certain. There are moments for every person who undertakes an Ironman in which doubt creeps into their mind and they begin to question themselves. Sometimes they're questioning whether they can get through their next training run. Sometimes they're questioning whether they can reach the next telephone pole a tenth of a mile up the road. Sometimes they are questioning their next step or pedal rotation or swimming stroke.
Ironman Boulder organizers urge patience, alternate routes for Sunday's triathlon
Starting at 10 p.m. Sunday, the race hosts a special finisher party for the final athletes crossing the line before the midnight cut-off.
Many of those final athletes have made finishing an Ironman a bucket-list item and have inspiring stories, race organizers said.
"The finish line is truly special," said race organizer Dave Christen. "The tradition of Ironman is that those who have finished earlier in the day all come back and bring home the last athletes into the finish line. The stories that develop over those last two hours are magical — something that everyone should experience if they can.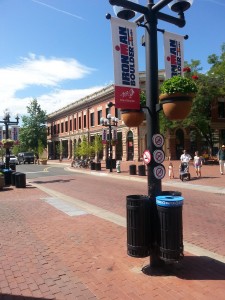 Started the tradition last year – end of July, Cheyenne Frontier Days.
This year I brought along my housemates Ash & Tom.  It was an entire weekend of sharing firsts – Ash & Tom's first 14er on Saturday, today their first rodeo (certainly their first Wyoming rodeo).
Hit the food court hard – spiral fries, elk burger & fresh squeezed lemonade – what's not to love?  Ash tried camel burger, Tom went with rattlesnake bratwurst.  And the winner was?   Tom.  We're all going bratwurst in 2015….tasty.
Rodeo was in full swing by the time we finished stuffing our insides.
M Stand tickets this year – Chute 9 view, but tough locating 3 seats together on Finals Days.  Missed the bulls but still plenty of rodeo left – buckin' broncos, steer wrestling & roping, ladies barrel racing, and calf roping.
Folks were packing up early (last day of the Rodeo) so missed a few favourites like the Chuckwagon Cutoff but still came back with a couple new cowboy-isms from our Oklahoma-based announcer:
2014
More fun than taking your mother-in-law to the airport
He's taken to him like hopping to Peter Cottontail
2013
There's a guy not afraid to shake loose and shake his boots
He stuck to him like spots on an Appaloosa horse
More moves than my city cousin peeing on an electric fence
He stepped off that broncing horse like he was stepping out of a barber shop
That lasted as long as a Hollywood husband
He rodeos in the summer time ('rodeo' used as a verb)
Finished the day with red velvet funnel cake.  Great idea Ash.  Dee' lish 🙂
I'll say it again —  Next life, I'm coming back as a Cowboy! 
Cheyenne Frontier Days 2014
Mt. Bierstadt was my first 14er summit 2 years ago, seemed fitting Ash & Tom would summit the same mountain as their first 14er. Shouldn't be too challenging.  Ash reminded me they had already conquered New Jersey's highest – High Point, 1,803ft 🙂
Early on the road, quick stop for gas station food in Georgetown (guilty pleasure), then up Guanella Pass.
Warm weather & Bierstadt's close proximity to Denver = lotta trail traffic.  Battled mosquitoes thru the mile-plus willow thicket, but luckily they dissipated as we reached our first glacier.
(Colorado's dry, high altitude environment make mosquitoes rare but this year the mountains were socked with snow, followed by a wet summer.  Generally Colorado summers are plagued by forest fire.)
Lotta afternoon lightning strikes (summer norm) so hiked at a fast clip.  Couldn't have been more impressed with my Jersey transplants – kept good attitudes & stayed well hydrated.
Switchback after switchback – targeted a spot (generally a large rock), hike sprint, quick break – rock, hike, break, rock, hike, break.  Little by little we worked our way to the false summit (actually tougher than the last half-mile rock scramble UP).  Ash & Tom stopped midway for lunch; I opted to hike on & eat at the false summit.  Finished lunch, took in some thin air, waited 20 minutes.  Up popped Ash & Tom over the lip of the false summit.  Super proud!
More fun than summiting?  Sharing others' experience of reaching their first summit.  FAAANNTASTIC!
Rock scramble to the Summit.  Straight UP 1,000ft — large boulder climb, looking for hand holds, scoping out footing.  Much more interesting than the past 2 miles of scree hill incline.  SUMMIT SUCCESS!
Pics, conversation…then a quick descent to beat storms blowing in from the North.  Caught a few sprinkles, but didn't need jackets 'til the willow thicket on our hike return.
Congrats Ash & Tom!  (who think maybe one 14er a year – what, only one?  I've gotta work on that 🙂 )