After a 2-hour flight delay, arrived in Minneapolis…just before midnight.  Whew, late night – but end of another work week, psyched for marathon #8.  Have pasta loaded & consistently ran for almost 3 weeks.  Ready to run!
Started my Minneapolis day at a rooftop café in Uptown. Norwegian Benedict (eggs benedict w/ salmon) – YUM!  Hot, overcast & HUMID.  I thought Minnesota weather would be more like Alaska — NOT!  'Land of 10,000 Lakes' is crazy humid.  And if tens of deep lake waters were not enough, the Mississippi River runs north-south through the city.  Misperception: the mighty Mississipp' is not solely in the Deep South – Huck Finn & Tom Sawyer had a whole lotta river to work with 🙂
3 mile walk around Lake of the Isles, then off to Mall of America – USA's largest shopping mall (North America #2 – behind Canada's West Edmonton Mall).  Honestly I'm not much of shopper but had to see what the fuss was about – an amusement park (Nickelodeon Universe) inside a shopping mall?  Picked up a Vikings shirt for tomorrow's race.  Check, done.
Paid homage to Mary Tyler Moore – positioned outside Macy's in Downtown – then to the Sculpture Gardens & Saint Mary's Basilica.  Hour nap, take-out pizza, quick shower & Minneapolis' famous Guthrie Theatre.  2nd row tickets to Crimes of the Heart.
FULL day – so much to see, so little time.  But tomorrow is race day!
May has been a super full month of activity, multiple road races, 2 marathons only 3 weeks apart & my first Century attempt (fail after 80 miles).  I've stayed strong mentally & done the swim/bike/run gig for 17 consecutive days.  Tomorrow will be my first break from training as get my tourist on in Minneapolis – then marathon #8 early Sunday a.m.
Part of 2 running groups now – 4 mile run on Thursday nights in Lafayette & a Saturday morning long run group (albeit have only managed one show to date – Saturdays are prime time training).
amazing hike video & sage advice
Crossing Iceland on Foot – SPECTACULAR landscape
10 Things That The People Who Love Their Lives Are Doing Differently
Surprise, surprise… happy people live their lives differently. They don't have different lives. They just do a better job at living them than those who are unhappy.  Most of the time, we find ourselves in the situations we are in because of actions we took and decisions we made. It's the way that you live your life that largely decides whether or not you will live happily.

…live in the moment, but dream in the future

Happy people have hopes, dreams and goals. They have wants and aspirations, but they don't allow themselves to get caught up and lost in them.  You can't live life doing nothing more than looking towards the future because you'll miss the only time that things actually matter or exist: the present.  The present…is the only moment that you can actually live in. The rest is only an illusion.
Staying inspired & living in the N-O-W!
Upbeat & excited before marathon weekend #8 in Minnesota (sure you betcha 🙂 )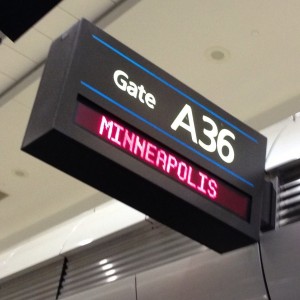 It's Memorial Day weekend in Colorado – so time for the annual Bolder Boulder, America's 3rd largest 10K.
Largest by Distance – If you think a marathon or half-marathon distance had the largest race field in the nation, think again. In fact, the top 3 largest road races for 2010 were two 10Ks and a 12K all with more than 50,000 timed finishers each: Atlanta Journal-Constitution Peachtree Road Race 10K (50,918), Lilac Bloomsday Run 12K (50,721) and Dick's Sporting Goods BolderBOULDER 10K (50,477); it was the first time that more than two U.S. road races exceeded 50,000 timed finishers in the same year.
Sure I also filled my 3-day weekend like most Americans – cleaned the patio, planted flowers, & gorged myself on (black bean) burgers, spinach salad (w/ strawberries), corn on the cob, potato salad & deviled eggs.  YUM!
Additionally, I super-sized the day by tagging along with Ash, Tom & the dogs on a hike after my morning race in Boulder.
But today's run was about honoring war veterans – and in particular I ran this day for my Granddad, who served in World War II.  My Granddad is now in his 90's & sadly, recently his health has declined sharply.
I grew up the oldest grandchild which often left me without playmates (most of my cousins are 5 years younger).  Granddad was super smart & exposed me to calculus & physics as a pre-teen.  His love of math & engineering was infectious.
Additionally, Granddad let me use his WWII binoculars to bird watch in the backyard (which opened into woods & a creek full of wildlife).  Granddad later gave me those binoculars.  And despite the many moves young folks make early in life, happy to say I still have Granddad's WWII binoculars.
I remember many of Granddad's stories – he served on a Navy vessel in the boiler room.  As the oldest grandchild, I'd sit quietly with the adults (my aunts) & listen to childhood stories.  My Uncle Dennis would set up the slide projector & show slides of us as babies & my Mom and her sisters as teenagers.
Granddad always worked – both inside & out of the home he built.  He attended college late in life (with my Aunt Joyce).
Nevertheless, he & Grandmother always found time for me, a gangling kid who had to grow into his looks.  I loved watching their old agitator (pre-washing machine era).  After running clothes through the wringer, Grandmother would clothespin [them] to a line Granddad had constructed from the basement to the outside.  He could fix absolutely anything.
In my eyes, this man could do no wrong.
So today, I ran for my Granddad – the greatest man I will ever know.
Ran almost every mile under 8 minutes, my last 2 miles faster than my first 2 (negative splits – WOW!) — and ran a PR, a full minute faster than my 1st Bolder Boulder in 2001 (13 years ago) 🙂
Official Timex Time for BolderBoulder: DA255 – Mile1=0:07:40, M2=0:07:51, M3=0:08:04, M4=0:07:48, M5=0:07:39, M6=0:07:41, Finish=0:48:26
2014  DA255  K R HAGA 48:26
2013  DA218  K R HAGA   51:24
2009  H721  Keenan Haga  53:51
2007  JC370  Keenan Haga 57:34
2002  CA217  Keenan Haga 51:28
2001  CC373  K R HAGA  49:38