3rd time on the bike – time to do some distance.  Still kinda nerved from car traffic but gotta get out & make peace with the bike if I'm gonna be ready for Ironman Boulder this August.
Day 1 – tour of my neighborhood & Waneka Lake
Day 2 – Lafayette, Erie, Community Park, Coal Creek Trail & downtown Louisville
Day 3 – How 'bout a 26-mile ride (52 miles roundtrip) along the Front Range to Lyons?  Louisville to Boulder, Hwy 36 to Lyons. Hills, lotta cars but you can't fail if you don't try, right?
Rode Valmont into Boulder – a bit out of the way but chose this scenic farm road to avoid traffic.  Boulder to Hwy 36 – lotta cars, stayed alert, did not panic.  Met up with my friend Matt.  Not doing it alone made the trek much more doable.  Thanks!
When I first moved to Colorado, I rode Hwy 36 to Estes thinking I would be travelling to Rocky Mountain Nat'l Park every weekend.  Life happened, adopted Ro but still remembered the many cyclists on 36 & thought 'someday I'm gonna do that'.
(hearing ya) You're scared of 65 mile an hour traffic, what did you like?
The almost canvas-like landscape of our foothills, country farms, horses & the sheer distance one can travel on bike (vs running).  ALSO, I'm crazy good at climbing hills – soooooo much easier than running UP.
AWESOME breakfast at the Stone Cup in Lyons; highly recommended.
Nothing noteworthy on the uphill return from Lyons.  Humbling (& a bit disheartening) being passed by entire groups of riders – just my 3rd time riding outside but it's like I was standing still.  Argh.
Ok crazy — what's next?
Just signed up for my first Century on May 18th, a 100 mile bike ride in Santa Fe, New Mexico — one week after attempting marathon #7, a hilly run up & down the Maine coastline.
Life's meant to be lived.  I'll rest next decade 🙂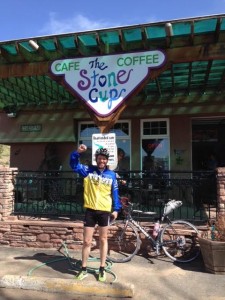 7am race start  – woke early & took advantage of free train transit to U of U campus.
Most scenic marathon start-to-date, locale blanketed by the towering Wasatch Mountains (Utah's Rockies).  6,500 participants, caps off for [singing of] our nation's Anthem – and pop, we're off.
My legs felt tight at mile 3 — not sure if caused by running a half marathon 6 days ago or running with my Thursday night group just 2 days prior.  Just a twinge but still came as a surprise.
Checked out the elevation map in advance (lesson learned from last month's Georgia Marathon) – running solid to mile 10.  A steady 5 mile climb to mile 15, then one last hill at mile 20.   Paced my first half 1:56 & gutted up the top of mile 15.  Pushed to mile 17 but that was it – empty, no more in the tank.
Water break.
Started running tandem with a young guy from Ogden.  Running, walking, shuffling but ultimately finishing what I started.  Along the way Timothy encouraged another runner, Natalie, completing her first marathon.  Tears streamed down her face as we neared the finish – only .2 miles away.  Super emotional day – I'm a better person for having finished with these folks.
Crashed an hour in Washington Square, showered, then up & off to Temple Square.  Gait wasn't pretty – more of a stumble – but enjoyed showing my friend Matt Temple Square & soaking in Spring.  Flowers were colourful, wildly vibrant.
6 down, 44 to go.  Next month's marathon – Maine (Kennebunk to Biddeford, along Maine's rugged coast).
Salt Lake City Marathon —  Saturday April 19, 2014
469     K R Haga        Louisville, CO             4:41:23
UPDATE
Early flight on Sunday meant spending Easter at home – just in time to start a new tradition, outdoor dining at Casa Alegre, our first Mexicana holy holiday feast 🙂
TRAINING UPDATE
Signed up for a 25k trail race (15.5 miles) in Larkspur Colorado the week before my next marathon.  Then no running or cycling for 6 days, only swimming.  And Nutella — it's baaaack for 3 weeks thanks to Ashton.
Off to Salt Lake City for a 3 day marathon weekend – my 6th marathon & first Saturday race day.
Runner's Expo bib pick up at Energy Solutions Arena (home of the NBA's Utah Jazz), then off to Antelope Island – my pre-race Utah adventure.  The Great Salt Lake is large enough to be seen from space — [so for me] an obvious go-to destination.
Antelope Island is accessed via a causeway west of Ogden.  Pronghorn Antelope?  Yeah, yeah they've been reintroduced to the island – but why did I go?  BUFFALO.  Free roaming herds of buffalo inhabit this island – so much so that each October they roundup herds, update vaccinations & sell off 100-150 head to maintain balance.
Quick stop at the Visitors Center to boost my knowledge base –
Why salty vs fresh water?  [lake is a bowl with no water outlet]
Do fish inhabit Salt Lake? [nope, only brine shrimp]
If no fish, what do the sea gulls eat? [lotta gnats & other insects]
First Anglo to settle Antelope Island?  [fur trapper Jim Bridger]
Bucking against ranger advice, hiked up Buffalo Point for pic ops of the Great Salt Lake.  Amazing landscape shots against Utah's snow-capped Rockies (Wasatch Mountains).  Beautiful but then… GNATS
Hundreds of gnats settled on my cap, shirt, neck, in my ears, eyes, mouth.  Appears the rangers were right – it really is gnat birthing season.  Rushed back down the trail, stepping on a snake on my trek return.  Not a rattlesnake (which is what I initially thought) but rather a Great Basin gopher snake.  Vigorously shook off, ducked in my rental & turned the AC on high.  Goal?  Freeze all remaining insects resting on my body & clothing.  I'm not crazy squeamish but these swarms were epic.
Meanwhile…only 20 minutes away on the other side of the island roamed herds of BUFFALO.  On a cerebral level, I understand these are genetic cousins to our domestic cattle – but in person, these massive mammals represent the American West.  Native to our continent, muscular, strong – I'm a HUGE fan.  WOW!
Saw jackrabbits which ridiculed the size of my neighborhood's bunnies – huge feet, enormous ears.  Didn't leave before snapping shots of deer & a coyote.  Whole lotta wildlife.
Can't imagine day-to-day life for those first frontier pioneers but for me, Utah's Great Salt Lake – a 'must-see' destination.