8 days after Austin – my first run.
Knees felt a little stiff – but motivated & ready to turn around my marathon results.  I came back from Austin feeling a bit defeated.  My worst marathon time since last June in Alaska.  I inwardly & outwardly wore the Texas humidity.
Additionally my weight is up 7 lbs.  Not horrible – I've been enjoying Ashton's home cooking – but starting to feel sluggish.
So…for 30 days – before my Atlanta marathon – going to improve my nutrition plan & renew focus on Ironman training.
6 days a week minimum, I will swim, bike or run.
Sunday (after church) was cycling practice — Day 1.  Indoor on a stationary bike, completed 20 miles.  Can't imagine biking 112 miles (that's another 92 miles) in only 6 months time.  Jeez, seems overwhelming.
Nutrition plan – gonna add more spinach & kale to my daily meal plan, drink no less than 8 bottles of water & sleep no less than 6 hours daily.  Failed Thursday, Friday & Sunday.  Putting it down in print – gonna stick to the plan.
Training Progress:
Tuesday – swim (45 laps – half my Ironman distance)
Wednesday – spin class at lunch (bike)
Thurs – swim/bike (45 laps & another spin class)
Friday – swim  (55 laps)
Saturday – swim/bike (45 laps & another spin class)
Sunday – bike 20 miles indoor (first time hitting 20 miles)
Monday – treadmill run, 6 miles at lunch
Go big or go home.  I'm committed, I can do this.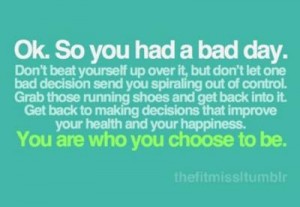 2 Responses to first 6 mile run after Austin