I started 2014 with a huge goal – Ironman Boulder.  30-40 hours/week training – lotta time away from friends AND a lotta time away from the mountains (but still managed to bag five 14ers this year 🙂 ).  Quite the life journey.  Looking back – don't think I'll attempt another Ironman for a loooooong while.  HUGE time commitment.
Up 4am every weekday swimming laps.  Work, then back to the gym spinning or running the treadmill.  In May, attempted my first Century ride in Santa Fe (finished 80 miles).  In June, my first half-Ironman in Steamboat (time cut after the bike).  Ran a FULL marathon – 26.2 miles – every month of 2014.  SUCCESS!
August 3rd, finished my Ironman swim in under 2 hours.  Crashed during the Ironman cycle.  Haven't been in water or back on a bike since.  Done, no mas.  (completely burnt out)
Marathoning, however – for whatever reason, stuck.
Not only did I run a marathon a month, but once Autumn hit, I doubled then tripled my goal.  Qualified for/joined 2 running groups – 50 States Marathon Club & Marathon Maniacs – and ended 2014 at 17 states, in a quest to run all 50 by 2016 year-end.
Just kickin' back in 2015?  Heck no – 26 more marathons & a HUGE life adventure.  Just wait 🙂
In the end, it's not the years in your life that count.  It's the life in your years – Abraham Lincoln
As we approach the New Year, good time to reflect & set new goals.
Life is a choice.  It is YOUR life.  Choose consciously, choose wisely, choose honestly.  Choose happiness 🙂
Top Five Regrets People Make on their Deathbed by Bronnie Ware

1. I wish I'd had the courage to live a life true to myself, not the life others expected of me.
This was the most common regret of all. When people realize that their life is almost over and look back clearly on it, it is easy to see how many dreams have gone unfulfilled. Most people had not honoured even a half of their dreams and had to die knowing that it was due to choices they had made, or not made.

It is very important to try and honour at least some of your dreams along the way. From the moment that you lose your health, it is too late. Health brings a freedom very few realise, until they no longer have it.


2. I wish I didn't work so hard.
This came from every male patient that I nursed. They missed their children's youth and their partner's companionship. Women also spoke of this regret. But as most were from an older generation, many of the female patients had not been breadwinners. All of the men I nursed deeply regretted spending so much of their lives on the treadmill of a work existence.

By simplifying your lifestyle and making conscious choices along the way, it is possible to not need the income that you think you do. And by creating more space in your life, you become happier and more open to new opportunities, ones more suited to your new lifestyle.


3. I wish I'd had the courage to express my feelings.
Many people suppressed their feelings in order to keep peace with others. As a result, they settled for a mediocre existence and never became who they were truly capable of becoming. Many developed illnesses relating to the bitterness and resentment they carried as a result.

We cannot control the reactions of others. However, although people may initially react when you change the way you are by speaking honestly, in the end it raises the relationship to a whole new and healthier level. Either that or it releases the unhealthy relationship from your life. Either way, you win.


4. I wish I had stayed in touch with my friends.
Often they would not truly realise the full benefits of old friends until their dying weeks and it was not always possible to track them down. Many had become so caught up in their own lives that they had let golden friendships slip by over the years. There were many deep regrets about not giving friendships the time and effort that they deserved. Everyone misses their friends when they are dying.

It is common for anyone in a busy lifestyle to let friendships slip. But when you are faced with your approaching death, the physical details of life fall away. People do want to get their financial affairs in order if possible. But it is not money or status that holds the true importance for them. They want to get things in order more for the benefit of those they love.

Usually though, they are too ill and weary to ever manage this task. It is all comes down to love and relationships in the end. That is all that remains in the final weeks, love and relationships.


5. I wish that I had let myself be happier.
This is a surprisingly common one. Many did not realise until the end that happiness is a choice. They had stayed stuck in old patterns and habits. The so-called 'comfort' of familiarity overflowed into their emotions, as well as their physical lives. Fear of change had them pretending to others, and to their selves, that they were content. When deep within, they longed to laugh properly and have silliness in their life again. When you are on your deathbed, what others think of you is a long way from your mind. How wonderful to be able to let go and smile again, long before you are dying.

Was invited to attend a Christmas candle lighting service at flatironschurch on Saturday in Lafayette.  A stranger a row in front turned and lit my candle.  I stood like a goof for 10 seconds 'til I spread my light to 2 strangers a row behind me.  What seemed only moments later, more than a thousand candles lit this building.  The church leader asked us to lift our candles, look around & remember 'you are not alone'.  It was a simple, yet very moving expression of faith.
Holiday season can be a tough time.  If not surrounded by family, young children & significant others during the holidays – easy to feel out-of-step with the rest of the Christmas crowd.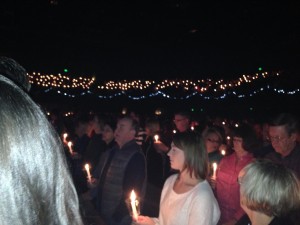 Luckily I'm insulated with a tight friend base.  Friends are family we choose for ourselves.
That said, family – blood relatives we clan with as youngsters are vital to how we're wired. No matter your faith, you gotta think 'what connects us by clan' is omnipotently directed…that it's more than random procreation.
None of my siblings climb mountains or live in my time zone – however, when together we share a unique connection.
During this holiday season, reach out & connect with family.  It's not always easy – family members say & do hurtful things we would never allow friends.
I sincerely believe we are part of a bigger plan.  Focus on this day, on tomorrow, on the day following tomorrow — leave yesterday in the past.  This holiday season don't just give, for-give.
Merry Christmas & God Bless. 
(favourite clip from The Color Purple)