Better than running my first half marathon since June?  Family support at the finish line.  The best!
Announced my 60 day Marathon challenge & soon after was down with a cold.  ARGH – crummy luck!  3 weeks of steady training later, have hit the halfway point.  Time for a half marathon – 13.1 miles.
Longest training run to date: 12 miles – but who can't gut out an extra mile on race day? 🙂
Took an xtra day & journeyed to Arkansas for a long weekend with family – before winter weather & holidays fill folks' schedules.  Flew into Fort Smith Regional airport via Dallas.  Small plane, small airport.  1 seat by 2 seat row capacity – landed in a 2 gate facility (yep, it's either Gate 1 or Gate 2 🙂 ).  BAM – 10 minutes later enjoyed lunch at Williamsburg Kitchen.  LOVE LOVE how close & convenient everything is in a small town!  And the weather?  Sunny & 60's.  FAAAANNNNTASTIC!
Saturday, race day.  FCA River Valley Run.
Wait, wait – missing part of the story.  Received a TomTom GPS Watch as a belated birthday gift (which should cover birthdays for a decade – thanks James, Collette & Maddie).  First run with the watch, a half marathon.  Talk about setting the bar high.  LOL>
Easy race start – fairly flat 'til mile 6.  Big hill but nothing crazy.  Happy to see James & Collette at mile 9 – super nice!
Trick finish.  At 10 ½ miles you drop off-road & run thru a wooded area.  BIG smile.  A mile-half later you're still gradually climbing.  NOT nice.  One mile to go – super winded, thinkin' maybe 2:16 for a finish time.  Goal is always 2 hours but hadn't raced this distance since June, I'm drowning in humidity – yep, full of excuses.
Yards away from the finish I squint hard to see the ticker.
1:54 baby.  Assume once I learn how to download my race splits from the new watch, I'll see a HUGE pace drop-off after mile 10 – but dang, I did it.  Finished & finished strong.  Confidence high – full marathon in 30 days.
Water, bananas & a purple Bible.  First race in the Bible-belt.  Check, done 🙂
Finished the weekend with a lotta food, lotta card games & a lotta laughs.
Running in Arkansas – I'll be back.
UPDATE:
Williamsburg Kitchen celebrates 35 years!  CONGRATS!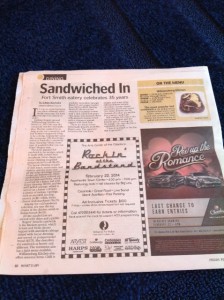 2 Responses to River Valley Run Half Marathon