I heard the announcement of Ironman Boulder on June 20th.   Had just traveled from Boulder County & same day my Colorado community was mentioned on the evening news in Anchorage Alaska.  How crazy!  So I suppose the seed was planted.
2 days later, flew home after my Alaska marathon with a bum right knee – and advised not to run again for 4-6 weeks.  Ok, no problem.  Honestly I had hit a wall after training so rigorously for 6 months straight.
Ironman still in my head – IMPOSSIBLE.  Another day would pass – CRAZY, completely impossible.  A guy at my age?  Absolutely no way I can do that.  Swim, bike more than 100 miles and run a full 26.2 mile marathon – & at altitude?
I don't endurance swim or bike.  I put it to prayer.
Still cannot imagine how I will complete a full Ironman but I got my answer.
Dear K R HAGA,
Thank you! You are now registered for the 2014 IRONMAN Boulder – IRONMAN Foundation.
Registration Details
Registration ID:
R-06RK05F2
Participant:
K R HAGA
Date:
8/3/2014
Location:
5565 N. 51st Street
Boulder, Colorado 80301
Category:
2014 IRONMAN Boulder – IRONMAN Foundation
My 3rd consecutive year of inspired goal setting locked & in place.  SUPER excited!
Welcome to IRONMAN Boulder.  Anything is POSSIBLE!
The newest addition to the IRONMAN circuit will take place on Sunday, August 3, 2014.
Nestled at the foot of the imposing Flatirons, Boulder, Colorado is already a wildly popular home-base and vacation destination for world-class triathletes. The city's health-conscious culture, near-perfect weather and breathtaking natural environment means its destined to be an instant favorite on the IRONMAN circuit.
Boulder's robust downtown, with its famous pedestrian-only Pearl Street Mall and idyllic Boulder Creek, will provide families and fans an unforgettable race day as they wait for their loved ones to cross the finish line. From five-star hotels to James Beard award-winning restaurants, Boulder's hotel and dining options are some of the best in the nation.
The race will start at the Boulder Reservoir with a single loop 2.4-mile swim. Once finished in the water, the first transition will will start the athletes on a beautiful 112-mile one-loop bike course in the city's vast open space. The bike will loop around Carter Lake and along the eastern plains of the Front Range before ending downtown at Boulder High School.
The two-loop run course is almost entirely on Boulder Creek Trail, winding along the creek and through city parks. Spectators will have multiple opportunities to cheer on the athletes and the last few steps of the day will take athletes up Pearl Street for a triumphant finish.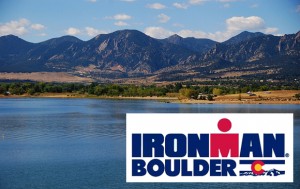 3 Responses to Newest Triathlon: Ironman Boulder Announced