Been a bit bummed this month because of my right knee.  Doc says it's just inflamed, no ligament tear – but to halt running for 4-6 weeks. However if I keep it iced, I can still run with pain & most likely do no damage.  That was the positive rendering of his diagnosis – should I not heed his advice of immobility.
So I put it to prayer (sorry in advance for getting spiritual in my blog).  I believe my God can produce miracles or will provide (mental) comfort/peace if physical healing is not in the cards.
Happy to report I'm running again with little to no pain & on target to complete my 2nd half-marathon in Fort Collins 🙂
Additionally, I booked my June flight to Anchorage with an extra day on the front-end to sea kayak & join a glacier night hike. Life's meant to be LIVED!  The goal was to complete a marathon, not win.  No regrets!
Movie of the Week
"Lars and the Real Girl" (2007) – laugh-out-loud funny, yet charming story set in Minnesota – which means they have those crazy cool accents;  Ryan Gosling was nominated for a Golden Globe, Patricia Clarkson also rocked as Dagmar, Lars' doctor.
Runner Log
Sun Mar 31st  – 1 mile plus 7.25 miles trail running
Sat Apr 6th – 4 hours BIKE
Sun Apr 7th – 4 miles, 4.75 miles trail running plus 3 hours BIKE
Sun Apr 14th – 8.25 miles
Tue Apr 16th – 10.5 miles
Wed Apr 17th – 13.5 miles, 1 hour BIKE
Thu Apr 18th – 3.5 hours BIKE
YTD total – 495.25 miles & 11.5 hours BIKE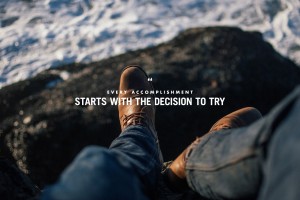 2 Responses to Believe-to-Achieve Thursday: TRY