Like they say: 'What doesn't kill you, makes you Stronger'  🙂
Completed my first half marathon of 2013 AND surpassed 400 miles YTD
BANGED UP BODY:

right knee ligament strain
blister/calluses on left foot
dropped a toe nail on right foot &
needed a Benadryl shot after an unexpected food allergy to Kashi bars
UPDATE: Woke up mentally strong today and ready to hit it hard for April.  Adding only minimal mileage next month, focused on hill running, pace & consistency.  Might even add an April fitness goal – xx push-ups a day?
Movie(s) of the Week
"Argo" (2012 Oscar Best Picture winner) – Iranian hostage thriller
"Doctor Zhivago" (2002 British mini-series & 1965 Golden Globe Best Picture winner) – WOW!
Thought this was strictly a love story so previously never made the attempt.  Typical Russian novel: intense love/hopeless heartache, artistic beauty/graphic conflict & of course, concludes with a death.  Having lived in Russia for 3 years (albeit not during the Revolution), I appreciated this dark rollercoaster drama.
Book-a-Month Goal/March
'The Art of Racing in the Rain' by Garth Stein – written from a dog's point-of-view; my favourite book YTD
Runner Log
Sat Mar 16th – RACE DAY (Canyonlands Half Marathon 13.1 miles, Moab UT)
Wed Mar 20th – 4 miles
Thu Mar 21st – 10 miles
Sat Mar 23rd – 2.25 miles
Sun Mar 24th – 10.65 miles
Mon Mar 25th – 11 miles
Wed Mar 27th – 10 miles
YTD total – 446 miles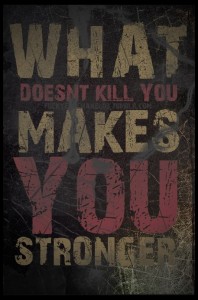 2 Responses to Believe-to-Achieve Thursday: STRONGER