Lotta small victories to celebrate last week.
Completed my first 10 mile run of the year.
Ran more than 100 miles in January – great kick-off to my 2013 Resolution!
Completed not only one goal race in January, but two.
AND finished my first book cover-to-cover in over 2 years.  Still have 5 more books at home which I've either received as loaners from friends or as Christmas gifts.
Movie of the Week
Good Will Hunting – wicked smart guy from Southie (1997 Best Picture nominee, totally robbed by Titanic)
Book-a-Month Goal/January
'Heaven is for Real' by Todd Burpo
Runner Log
Fri Jan 25th – 5.75 miles
Sat Jan 26th – RACE DAY (SnowDash Xtreme 5K, Winter Park CO)
Sat Jan 26th PM – 4 miles
Sun Jan 27th – 8 miles
Mon Jan 28th – 8.25 miles
Tue Jan 29th – 10 miles
Thu Jan 31st – 5.25 miles
YTD total – 101.20 miles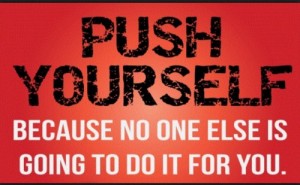 2 ski weekends, 2 race weekends – no couch potato-ing for me in 2013.  HA!
Dropped Ro off for another play-date with pal Molly, then hit the open road – destination: Winter Park, Colorado.
Had already banged out my January race 2 weeks earlier but this adventure race was calling my name.  Similar to a Tough Mudder, SnowDash Xtreme is an obstacle riddled 5K – but in knee-deep snow.  Not a lotta mud here in January.
The music & participants lining up at today's Start were an estimated 10 years younger than me (& I'm not super old). Physically no worries, I'm strong…but felt like I was crashing a post-grad, twenty-something only event.
Just feet from the Start, we cleared our first obstacle – jumped a concrete barrier into a pit of fresh powder.  Next obstacle: the altitude.  Guess I haven't hiked high in 2 months so found myself short of breath running at 10,000 ft.
Ladder obstacle, a hill climb, then…the log challenge.  Argh, this one was tough.  Selected a log and started up the hill, happy to return my oblong obstacle after completing the required loop.  Two more mini-mountain obstacles, another ladder, then belly crawled under a rope trap before running the final half mile.
The music was back & a guy asked if I was ready before giving my plastic sled runner a push down the icy snow bank – sliding across the FINISH line.  SUPER AWESOME FINISH!
Enjoyed a limeade sports drink (no beer for me) & warmed up by a fire pit with other Finishers.
3 weeks until my February challenge – the Snowman Stampede, a 10 miler in Littleton.  Consider today's race cross-training 🙂
SnowDash Xtreme (bib pick-up clip)
Most of my blogger friends maintain a standard weekly post – 'Wordless Wednesday'.
For me, 2013-first half will be 'Believe to Achieve' Thursdays – created specifically to keep me on track in my marathon training.  Best way to SUCCEED is to celebrate small victories & document/chart my progress.
Movie of the Week
Rocky (original) – the ultimate underdog movie (& 1976 Best Picture winner)
Runner Log
Sat Jan 12th – RACE DAY (Quicker Quaker 5K, Lafayette CO)
Sun Jan 13th – 3.25 miles
Mon Jan 14th – 3.25 miles
Tue Jan 15th – 4.25 miles
Wed Jan 16th – 3.25 miles
Thu Jan 17th – 5.25 miles
Fri Jan 18th – 5.25 miles
Sat Jan 19th – 3.25 miles
Sun Jan 20th – 7.75 miles
Mon Jan 21st – 7.75 miles
Tue Jan 22nd – 5.25 miles
Wed Jan 23rd – 5.25 miles
YTD total – 56.85 miles