Nope, not THAT 'On Golden Pond' but this Boulder County hike still made our 2012 list.
A co-worker recommended I visit her hometown of Longmont and try Golden Ponds.
After thoroughly eviscerating a cattail, Ro completed his weekly 'ice walk' — 2nd weekend in a row.
Windy, cool walk but marked Ro's longest car ride to date — 30 minutes to Longmont.  LOVED the Canadian geese — all huddled together, chattering, then TAKE-OFF with surprising huge wing spans.  Geese — another new life experience for Ro.  Done, check 🙂
Capped off our hike with a crisp view of Long's Peak — one of Colorado's 52 14ers — mountains which exceed 14,000 ft elevation.
FAAANTASTIC !
Biathlon — skiing w/ rifles!  Why isn't this sport more popular in the US?
Impossible to wait every 4 years to watch in the Olympics.  Argh.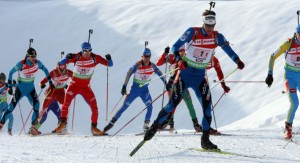 Addicted to tennis since watching Davis Cup between Adriano Panatta (Italy) and Vitas Gerulaitis (USA) on a black-n-white TV, I haven't missed a Grand Slam since my pre-teen years.
First [there was] my obsession with everything BORG, then Mats Wilander to a lesser degree (that first French Open victory at age 18 & later his US Open win over Lendl in 5-sets), Pat Cash for half a second and now today's 2 stars – Federer & Nadal (still not a Djoker fan).  The constant – I've struggled finding warm bodies to watch endless hours of AMAZING SPORT 🙂
2012: enter Rowan into my life.
He might not understand why they don't actually 'retrieve' the ball, but by golly – man's best friend watched a 4th Round match on ESPN3 (post-midnight – Aussie time difference) until he crashed on my lap.
Truly man's best friend.