Lucky in life.  My North End neighbor Larry had an extra concert ticket to Red Rocks Sunday nite.
Ray LaMontagne.  Never heard of him – didn't matter.   Great company, great music, great venue, great night.
Don't be afraid to say YES to the unexpected.  Be spontaneous, life is meant to be lived.
Grammy WINNER Ray LaMontagne (audio only)
Red Rocks Amphitheatre is a rock structure near Morrison, Colorado, where concerts are given in the open-air amphitheatre. Red Rocks Amphitheater is a naturally formed, world famous outdoor venue just fifteen miles west of Denver. There is a large, tilted, disc-shaped rock behind the stage, a huge vertical rock angled outwards from stage right, several large outcrops angled outwards from stage left and a seating area for up to 9,525 people.
Rolling Stone magazine has ruled the best amphitheater in the United States is Red Rocks Amphitheatre in Morrison.  Red Rocks was judged to be better than even New York's Madison Square Garden and the Hollywood Bowl, which were Nos. 2 and 3, respectively.
Public, organizational and private performances have been held at Red Rocks for more than 100 years. The earliest documented performance at the amphitheater was the Grand Opening of the Garden of the Titans, put on by famed editor John Brisben Walker on May 31, 1906. Featuring Pietro Satriano and his 25-piece brass band, it was the formal opening of the natural amphitheater for use by the general public after Walker purchased it with the proceeds of his sale of Cosmopolitan Magazine.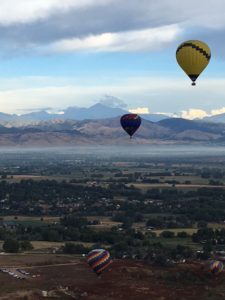 3-day Labor Day weekend – where to go?  How 'bout a stay-cation?  Lame.  Well…not if your favourite blogging pal Sarah is flying in from Canada.  Super fun, right?
Set the alarm for 530am – 'cause it's Saturday of course.  LOL>  Reserved two spots for a hot air balloon ride – couldn't be a better way to show off my home state, Colorado.
Not a lotta prep required for newbies – just hold on!
Daybreak.  Watched the team first fill the balloon with cold air, then switched on the fuel.  8 of us jumped in, then up up & away we sailed high above – AMAZING views of the Rockies.
Beautiful experience.  WOW!
Activities complete?  Heck no.  High elevation hike, fancy eats at 8000ft, Garden of the Gods & a Monday marathon in Colorado Springs.  Just started with a balloon ride – wait & see 🙂
Ballooning in the Rockies
Only 3 weeks away – time to book my flight to Russia.  About time, don't ya think?
Registered for the Moscow Marathon last February, applied for my Visa in April.  However because of recent health issues, kinda drug my feet committing to travel plans.  Crazy far away – so very foreign.
No worries.  All in now, 100% – flights booked, hotel near Red Square.  Trip's gonna be AMAZING!  #noregretlife
The Promsvyazbank Moscow Marathon route offers a spectacular tour of Russia's capital, from the embankment of the Moskva River by Moscow City, to the Garden Ring, across Krymsky Bridge, along the Boulevard Ring and on Tverskaya Street, through Teatralny Passage and under the walls of the Kremlin before finally reaching the finish line at the Luzhniki Olympic Complex.

…participants will be able to see more than 30 world-famous attractions, including the Kremlin, the Cathedral of Christ the Savior, the Bolshoi Theatre, Moscow City, and four of the Seven Sisters skyscrapers.
Denver ⇨New York ⇨Milan ⇨Moscow
Moscow ⇨Amsterdam ⇨New York ⇨Atlanta ⇨Denver