Rolled into Pueblo 10 minutes before bib pick-up ended.  Landscape more reminiscent of New Mexico than the Rockies.  Former steel town (one old smokestack remains)…Spanish just as prevalent as English.  LOVE the diversity of our state – Eastern Plains to the Rockies, canyon walls of the Western Slope, red clay of Pueblo.  Colorful Colorado.
Only 2 ½ hours from home but decided to hotel before tomorrow's marathon…close 5 minute walk away.  Still full from my Deli lunch, night-walked the City downtown before setting my morning wake-up buzz.  Last shuttle bus depart: 7:30am, late 9am marathon Start.
Woke Sunday to sunshine, forecast low 60's – 'bout 15 degrees cooler than Friday's unseasonal high.  No specific time goal today, training focus [has] been on leg strength: Wyoming's Bighorn 50 in June.  PR speed will come later.
Hour+ wait before the day's start.  Met up with fellow 50-Stater Dave Bell, introduced myself to 3 other Maniacs.  No matter how remote the run, our community's well represented/we're a tight knit group.  Even in far-away Russia, I connected with 4 fellow Maniacs.
First race with a watch, have resisted for years.  HUGE adventure planned in March, needing an easy way to log my daily mileage.  (Thanks Bro, lovin' my 2014 Christmas gift!)
Race Start.  Easy 10+ minute pace, still chatting with my 50 State friend …decided to use today as a training run.  Beautiful weather, why not?  Trekked entirely on bike path.  First few miles in Lake Pueblo State Park.  (in my opinion) Left too early, nothing crazy scenic in Pueblo.
Never been one to run & talk, never felt it possible.  STRONG today – consistent training paying off. Easy, comfortable 2:35 first Half (one of my slowest starts ever).  Hung with Dave thru mile 14. Quickened my step, said our goodbyes & I took off.  Checked the watch: 8:35 mile.  Goal: every mile under 9 minutes.  Electrolytes & water at each aid station.  No walk at mile 18.  No slog at 20.
2:35 first Half – dude, we were way way back.  Didn't catch another runner 'til mile 19…but then I kept ticking them off.  Guy in a red cap, girl in pink tights, 2 couples running together.  But where's the Newton kid?  (First 5-6 miles Dave & I traded leads with the 'Newton kid'.  Guy shared my shoe love, Boulder's local Newton Running Company.  Been running in Newtons since early 2015.)
Series of loops, miles 18 to 23 – spotted 'Newton kid' on my left…at least a mile half lead.  Older lean lady-Ironman tattoo, woman wearing a North Carolina cap, my first Maniac.  Mile 24 – 9:03 mile.  Dug deep to drop pace under 9 again.  No pills, no puking – that was last year.  Mental transformation.
Mile 25: Blue Newton shoes in sight.  No walking, he's not given in.  If I want it, I've gotta catch him soon.  Mile 26: I'm still a body length back.  Breathing hard, been pushing for too long…too late in a race.  Finish line ahead.  Held my breath, swallowed hard.  Sprinting, I didn't look back.
Marathon #82 – my strongest 2nd Half in years…a 2:04 – after running 13+ miles.  Laid in the grass & panted.  Stretched, up in 5.  Shook hands with fellow runners, congratulated their achievement.
BIG day for me.  Not my finish time…but HOW I finished – at least 5 more miles left in the tank.  FAAANNNTASTIC!
On track for 100 – next weekend: Fort Worth's Cowtown Marathon, everything's bigger in Texas 🙂
Keenan Haga

Pueblo Marathon and Half – Marathon – Pueblo, CO Feb 19, 2017

Overall: 57     4:39:24
Margaret "Maggie" Brown (July 18, 1867 – October 26, 1932) (posthumously known as "The Unsinkable Molly Brown") was an American socialite and philanthropist.  She is best remembered for exhorting the crew in Lifeboat No. 6 to return to the debris field of the 1912 sinking of RMS Titanic to look for survivors.  During her lifetime, her friends called her "Maggie", but after her death, a 1960 Broadway musical based on her life and its 1964 film adaptation were each entitled The Unsinkable Molly Brown.
Marathon Sunday in Pueblo…time to pull out the folder.  AAA articles, newspaper clippings, emails/FB posts from friends, pages ripped from airline magazines – all activities/places which spark interest & light my heart.  Doesn't everyone have a folder?  🙂
First Colorado marathon of the year so…decided to celebrate a famous Coloradan – the Unsinkable Molly Brown.  Saw the 1964 movie (starring Debbie Reynolds) on Netflix.  Over-the-top energy, hillbilly drama.  Set in Leadville, the Browns would move to Denver (after a successful mining claim) & try to join the social elite…sorta like a movie version of "The Beverly Hillbillies".  Of course, there's no place for Molly at anyone's table (despite her wealth).  Freak circumstance puts her on the Titanic – and she becomes a national celebrity.
Kicked off 'Molly Brown Day', the night before in nearby Longmont.  Purchased dinner theatre tickets for a local adaptation of the Broadway play.  Reality: all 'Dinner Theatre' is not created equal.   Tonite's performance was light on talent & the hall struggled with food service.  Show started 45 minutes late –  but overall, a FUN experience.  Something new to do on a Friday night.  Check, done.  No regrets.
Saturday morning:  short 2-mile run, packed an overnight bag, quick shower.  Dropped Ro at the kennel, next stop: Denver – specifically, 1340 Pennsylvania Street…the actual Molly Brown House.  History nerd alert – LOVE LOVED it.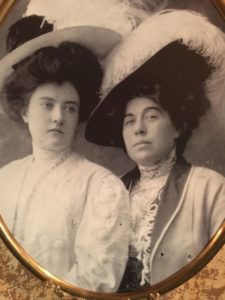 Movie: 'Molly' Brown
Reality: Margaret, Maggie — but never, Molly
Movie: illiterate mining girl
Reality: high school-equivalent education, well-educated vs her [female] peers
Play & movie were based off articles published in the Denver Post, written by socialites who disliked Molly because the Browns represented 'new money'.  Most of Denver's elite wanted to be accepted in East Coast social circles so went to great lengths to distance themselves from 'new money' (their parents' generation).  Colorado only achieved in statehood in 1876.
Turn of the century wallpaper, stained glass, kerosene lights, Victorian furniture, bear rugs & animal mountings (inspired by President Teddy Roosevelt)…like walking back in time.
Post-Titanic 'Molly' Brown fought for women's suffrage.  Colorado became the first U.S. state to provide the vote (Wyoming, technically 'the first', was a territory).  Mrs. Brown ran for US Senate twice.  She purchased land to create the City's first parks & fought for worker's rights – an issue which ended her marriage (technically though, they never divorced).
Really really interesting day.  If ever in Denver, take the hour-long house tour ($11).   Highly recommended.
New York Deli News for lunch (well-known Jewish deli, another 'first' experience), followed by my first Colorado visit to IKEA.  Haven't seen dollar hot dogs & cinnamon buns since leaving Connecticut.  LOL>
Sometimes the best vacation is in your own backyard.  LOVE LOVE my Colorado life!
Where there is desire

There is gonna be a flame

Where there is a flame

Someone's bound to get burned

But just because it burns

Doesn't mean you're gonna die

You've gotta get up and try, and try, and try

Gotta get up and try, and try, and try

You gotta get up and try, and try, and try

— "Try", Pink (2012)
I'm an endurance runner not a skier.  BUT first-and-foremost I'm a Coloradan – it snows, we ski.
LOVE the concept of skiing, LOVE snow, high mountains, thin air.  Fear the pain of hitting hard, long-term injury.  That said — life's meant to be lived.  No excuses, no wish I would'va – just LIVE & live BIG.
K* decree: at least once a year, every year…he will ski.  AND he will enjoy it 🙂
Post-work Friday travelled to Vail with my neighbor Larry.  Drive-share, room-share, skied on a buddy pass – Larry's the guy to know when planning a Colorado ski vacation.  Airbnb'd in a mountain home, block or 2 from the local shuttle system – easiest/quickest way to reach the slopes (and it's FREE vs $40 to park your car).
Saturday a.m. snow run ('cause every day's a run day), change of clothes, shuttle pick-up, Vail Village by 10:30.  Gondola ride UP to a choice of ski lifts.  Super cool.  Not my experience at A-Basin or our local Eldora…but I guess this is 'Vail'.
Bad skier guide: GREEN, yes.  Black DIAMOND, heck no.  Life's meant to be lived – but ya gotta know your limits.  4 runs from Mid-Vail before lunch, rode UP to Wildwood for lunch.  Nothing like a warm bowl of chili.
Afternoon-skied 2 runs from Wildwood, then Gitalong trail down to Vail Village.  Heavy snowfall.  LONG LONG ski on Gitalong — expected to see the Pacific at the end of my ride.  Hit hard more than a few times.  After one tumble, unlatched my binding on the attached ski, recovered its missing mate, steadied myself/rattled, struggled to stand, breathed long & deep.  ENOUGH!!!  Not a super proud moment.  Friend encouraged [me] back into skis & continue the journey home.  Next time: take the Gondola – HA!
Bruised but undeterred, I'll be baaack 🙂  Skied the biggest, baddest mountain in Colorado, came home unbroken PLUS logged a few run miles at altitude — achieving life balance…baby steps.  #noregretlife
Next weekend: the inaugural Pueblo Marathon (short 2 ½ hours from home)
Vail Ski Day