Shakespeare & classic 70's tunes – the connection?  Enjoyed both OUTDOORS this week in Boulder County.
Colorado Shakespeare Festival (Boulder) –  "Half-moon outdoor arena, center aisle seat, Flatirons sunset, temps in the low 70's – yep, pretty much PERFECT."  Stole the line from 2015; saw Othello that summer.
Fast forward 2 years: 2017, the Festival's 60th Season.
Hamlet, Julius Caesar – nope, threw my money at Henry VI Part III.  Absolutely no idea what to expect.  Yep, completely on purpose.
Different kind of performance.  Similar to Shakespeare's time, actors were given just 20 hours to learn their lines.  Introduce Hadley [Kamminga-Peck], Dramaturg & Prompter.  Kinda fun to see actors miss lines, turn to the lady seated off-stage & request dialogue.
What else was unique?  Audience members were provided red or white flags (Lancaster or York) – & encouraged to root for their 'House'.  "Take off his head" I screamed.  20 minutes later, booed/hissed when a member of my House, Clifford, was slain.
Typical Shakespeare – inconvenient marriages, 2 families vie for King, whole lotta slaughter.  Unfortunately, nite didn't end well for Team Red.
Tonite's STAR – Queen Margaret, House of Lancaster.  Wore a sword, led an army. The crowd cheered 'Henry', I bellowed: MARGARET!!
NOT the Shakespeare of my youth.  Far exceeded all expectations – FAANNN-frickin-TASTIC!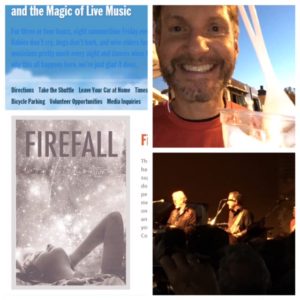 [2014] Kicked off the weekend at Louisville Street Faire listening to live outdoor music, filling up on pizza & ice cream…
[2015] Bowling, "Toy Story" Uno (family game night), Louisville Street Faire – and blink…it's time for all to go home…
Street Faire (Louisville) –  All summer, every Friday night on Front Street (just off Main).  Food, booze, crafts & LIVE music.  Not sure what excuse I was floating last year – but 2017, happy to be back in the WIN column.  Loser streak over.
Louisville residents skew mighty GRAY.  Tonite's band: Firefall.  Honest, had to Google-search but strangely remember their late '70's-era hits.  [thanks Mom 🙂 ]
Super FUN nite – LOVE LOVE my Colorado home ❤
Firefall is a rock band that formed in Boulder, Colorado in 1974.  The band's biggest hit single, "You Are the Woman", peaked at No. 9 on the Billboard charts in 1976.  Other hits included "Just Remember I Love You" (#11 in 1977), "Strange Way" (#11 in 1978), "Cinderella" (#34 in 1977), "Headed for a Fall" (#35 in 1980), and "Staying with It" (#37 in 1981) with female vocalist Lisa Nemzo.
Street Faire 2017
Yesterday in the high Sierras, today on scenic Lake Tahoe.
Sunrise woke in South Lake Tahoe, circled the lake northward – day's first stop:  Emerald Bay.  Mix of tall redwood & pine – HUGE evergreen – line California's largest freshwater lake.  Bay tinted green (emerald green) where it hugs shore.
$10 to the Park Ranger.  Successfully secured parking (kinda a big deal in California).  Stared long/hard at the Lake horizon, before starting the short steep hike DOWN to Vikingsholm on tourist-heavy Tahoe – HIKE day ❤
Vikingsholm…this magnificent "castle" is a unique blend of nature's spectacular beauty and man's architectural ingenuity.

The Vikingsholm foundation was laid in 1928, but the building was constructed in 1929 by 200 workers. Vikingsholm was built by Mrs. Lora Josephine Knight as a summer home. Before starting construction, Mrs. Knight and her architect traveled to Scandinavia to gather ideas for the construction of the house. Some parts of the structure contain no nails or spikes, as a result of old-fashioned construction methods. Most of the building was made from materials found at Lake Tahoe.

Mrs. Knight is best known for building Vikingsholm, but she and her husband Harry, a businessman were primary backers of Charles Lindbergh's non-stop solo flight across the Atlantic in 1927.
Followed the steep one-mile path DOWN DOWN DOWN to Vikingsholm.
White granite canyons, HUGE forest'd trees.  Snagged 2 enormous pine cone for my Colorado mantel.
Interesting well-preserved residence, Vikingsholm, but didn't purchased a ticket to tour inside.  I trail-hiked DOWN to see California redwood, to enjoy the all-consuming scent of pine.  Not disappointed, WOW!
Dipped both hands into Lake Tahoe before trekking back UP.  UP UP to Hwy 89, the local northbound highway I'd travel lake-circumference.  Tahoma, Tahoe City, then lunch.  3 more hours to play 'til my return flight home from Reno.
89 North to Truckee, diverted left on Squaw Valley Road.
Squaw Valley, California – site of the 1960 Winter Olympics.  Gotta/hafta/must STOP, right?  Team USA won first-ever hockey GOLD; Americans [David Jenkins & Carol Heiss] topped both figure skating podiums.
The Games' spirit, the OLYMPIC FLAME stays lit 24/7, 365 days/year.  Pretty neat.  I was here.
After a weekend off from marathoning, back on the trail – literally.
Friday a.m. flight to Reno, scenic hour-half drive to South Lake Tahoe.  Running on 2 historic trail systems tomorrow – the PCT (Pacific Crest Trail) & XP (Pony Express) trails in California's Sierra Nevadas.
Easy laid-back drive, radio set to classic 70's – never turned the dial, all weekend.
Hotel check-in, then a rural 45 minutes on US 50 West to Kyburz (bib pickup).  Located tomorrow's trail Start at Echo Summit (1968 US Olympic high-altitude training center).  Quick hello/goodbye.  Back in the morning California redwood, Ponderosa pine ❤
First year event – read & re-read the course description PLUS snapped a shot of the map itself (nothing left to chance).  More concerned being lost in the high Sierras than any wildlife encounters (only bear I saw/stuffed at Strawberry Lodge).
RACE DAY, SATURDAY:  Cool & overcast.  Mix of HIGH CLOUDS & MASSIVE TREES.  Super thankful, appreciated the cover.
Most of the day, focused/eyes alert for PINK ribbons.  13.8 miles in, started the climb UP.   Two HUGE hikes, over 4000ft vertical gain.  Lovers Leap Trail: let's just say, I know why they leaped.  Crazy difficult hike.
but…the Panorama?  (like being) Wrapped inside an Ansel Adams photograph.  Just WOW!  Every north-facing tree blanketed in vibrant green moss.  Yellow-green: closest colour match in my Crayola box.  That's the memory I'll take home to Colorado.
Only negative?  Course went long.  I know, I know, it's trail.  Folks: this course went long.  My watch (& Strava app) died somewhere after 30.5 miles – my first ultra finish of 2017.  (I say first 'cause I haven't yet given up on running a 50-miler this year.)
#94 in the books.  2nd longest [amount of time] I've been on my feet (behind 2013's Barr Trail hike UP Pike's Peak).
TROY'S CALIFORNIA TRAIL RUNS

Echo Summit Trail Challenge – August 5, 2017

Trail Marathon  Jude Archie  M  06:40:28    1

Trail Marathon  HAGA K R  M  07:51:36    2
HIKE DAY tomorrow 'round tourist-friendly paradiso, Lake Tahoe.  Living well, lucky in life 🙂
road-trippin': Reno to Tahoe