4:45am alarm, crazy tired start to marathon morning.  Living B-I-G can have its drawbacks.
Didn't end Super Saturday early, even after a FULL day at Niagara Falls.  My Canadian bestie next drove us from her Brampton home to downtown Toronto (45 minutes away).  Trip wouldn't be complete without a ride UP the CN Tower, tallest building in the Western Hemisphere.  Sarah however had other ideas.  No trip would be complete without FINE DINING at the WORLD's highest & largest revolving restaurant – 1,152ft UP.  Yeah, yeah we walked out on a scary glass panel (2 floors BENEATH the restaurant) – but it's our fancy 3-course meal, I'll long remember.  Thanks friend, GREAT idea!
Home by 11pm – morning came early.  5:15am climbed in Sarah's car Milo, arrived at Ontario Place by 6am.  45-minute bus ride to Mel Lastman Square (marathon Start), dropped between the North York Civic Centre & Toronto Centre for the Arts.
7:30am Start, Orange Corral.  Caught the 4 hour pace group after 2K (no miles today — we're in Canada, running 42.2K).  Cold damp day but unlike yesterday, no rain.  After running in shorts the past 2 weeks, risked getting hot & donned a ski jacket…trying to outthink today's 2nd Half along wind-happy Lake Ontario.
One steep climb 5K in.  3:50 pacers passed me going up, I caught them on the down.  Stayed just ahead thru 25K.  HUGE blast off Toronto's Great Lake pushed me backward.  Pacing bunny (that's what they're called in O' Canada) went by on the left…and that was that.  No mo' gas.  Flat course 'round the lake (Martin Goodman Trail) but went out too fast too early.  Strong headwind next 7 miles, running 9:40-10/min miles.
Entering Humber Bay Park, passed by the 4 hour pack.  Wind at my back, 35K to the Finish.  Slow/run combo to the end, no more slog.  Either gonna run or walk fast – but no more humped shoulders/slow jog.
Realize I went out too fast today but on the right path – know I got it in me, I WILL PR this year.  It will happen.
Back at Ontario Place, marathon FINISH #89.  Couple seconds quicker than last weekend, 2nd fastest run of 2017.  Third province completed & a new Canadian PR (almost 30 minutes better).
Convoluted flight path home, Monday morning work day awaits.  Sunshine – home, sweet Colorado home 🙂
Goodlife Fitness Toronto Marathon
2017-05-07 • Marathon

583   K R Haga   Louisville   04:17:04.8
"Everest is and always will be dangerous.  Tragic as it is when we lose people, it's important that we remember that the very reason we go to the high mountains is to approach that edge.  Doing so amplifies what it means to live."
Kilian Jornet, professional ski mountaineer and mountain runner, via Facebook:

Thank you Ueli for being a mentor in alpinism and a constant source of inspiration. Every climb with you was a learning to keep improving along with a mountain lover. My thoughts are with Ueli's family and friends.
Sadly heard about Ueli Steck's fatal accident in the airport, on my trip home from Oklahoma City.  These guys are tops in their sport, seem immune to death.  We remember a life well lived, a no regret life.
My own personal journey to Everest ended 2 months before my flight itinerary/anticipated departure – cut short by a series of earthquakes, closing the mountain in 2015.  Will I try again?  Not saying no…just saying 'not yet'.
January 2019 goal: Antarctica.  Still a year & a half away, whole lotta living to do – but by calling it out to the universe – right here, right now – makes the goal actionable, no longer just a dream.  Life is meant to be lived.  Thanks Ueli.
Dream; stay inspired.  Absolutely anything is possible!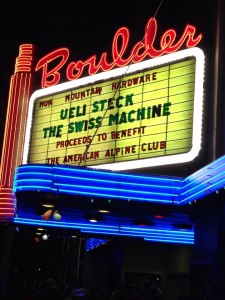 Ueli Steck, the Swiss Machine | Published December 8, 2014 |
Two years in a row, I've seen a NatGeo Adventurer of the Year in person – here in Boulder.
I met last year's winner Kilian Jornet at a book signing, in Colorado competing at the 100K Ultra Race of Champions.  This year [saw] nominee Ueli Steck at historic Boulder Theatre benefiting the American Alpine Club.  Tonite I kicked back, watched [videos] & listened to Ueli talk mountaineering, climbing, endurance & technique.
— 2012:  52 different hikes in 52 weeks
— 2013:  first full marathon in Alaska
— 2014:  Ironman Boulder
— 2015:  TBA
Gonna keep 2015 plans under wraps a few more weeks while I coordinate logistics & details.  Might have thought 26 marathons in a calendar year was the BIG goal next year – nope 🙂   Crazy excited – seriously folks, this is B-I-G!
Adventurer of the Year, Ueli Steck, Killed Climbing Near Mount Everest

The "Swiss Machine" was known for his speed ascents and love of mountains.

By Andrew Bisharat

PUBLISHED APRIL 30, 2017

Ueli Steck, a charismatic Swiss mountaineer famous for speed ascents of some of the tallest and most difficult mountains around the world—feats of mind-blowing endurance that earned him the nickname "Swiss Machine"—was killed on Sunday while acclimatizing in the Everest region of Nepal. He was 40 years old.

A spokesperson for Steck's family confirmed his death on his website:

"Ueli Steck was killed while trying to climb Mount Everest and the Lhotse. His family has learned of his death today. The exact circumstances are currently unknown. The family is infinitely sad and asks the media builders to refrain from speculation about the circumstances of his death due to respect for Ueli."

This season, Steck was preparing to attempt to ascend 8,850-meter Mount Everest and Mount Lhotse next month. On April 24, 2017, Steck shared this Instagram post from Khumbu Icefall as he acclimatized and trained for his upcoming expedition.

Steck's remains were reportedly discovered near the base of West Nuptse, a 7,800-meter peak standing to the west of the Everest massif. Climbing alone, Steck was reportedly acclimatizing on Nuptse when the accident took place. This acclimatization run was in preparation for Steck's ultimate goal: a traverse of both Everest (8,850 meters) and Lhotse (8,516 meters) in a single push, while taking an ambitious route to the summit of Everest—the infamous West Ridge, unrepeated since its first ascent in 1963. He was also planning to climb without using supplemental oxygen.

Steck had been training for the "Everest-Lhotse Project," as he called it, for years. His face lit up with excitement and awesome wonder every time he described it. It was this unbridled enthusiasm for climbing, combined with his inhuman endurance, that so greatly inspired both core climbers and armchair mountaineers around the world. It also earned him recognition as a National Geographic Adventurer of the Year in 2015.

"Ueli transcended simple inspiration," says Cory Richards, a National Geographic photographer who is currently in Tibet, acclimatizing for his own ascent of Everest. "What he gave to our community was matched only by the tracks he left in the mountains. For me, the space he leaves is one that can't be filled. Simply admired and revered."

Steck's death is the first fatality of the 2017 Everest season, a period that lasts from March to May. Upwards of 1,000 Everest-bound climbers are reportedly in the region this year, a record in and of itself. That Steck, who was considered perhaps the best mountaineer in the world at this time, died on a standard acclimatization run speaks to the inherent risks of mountaineering in the Himalaya.

Perhaps Steck's most impressive achievement was his solo 28-hour-roundtrip speed ascent of 8,061-meter Annapurna in 2013, a feat that earned him a Piolet d'Or award, mountaineering's highest honor. Steck tackled the South Face, an intimidating 10,000-foot vertical wall of ice and crumbling rock. In 2007, Steck nearly lost his life attempting the South Face when rockfall knocked him 300 meters down the mountain. Miraculously, he survived with only minor injuries.

Steck was raised in the idyllic town of Langnau, in the Emmental region, and spent his youth playing hockey with his two older brothers. He discovered climbing at age 12 when some friends of his father, a coppersmith, took him to some local crags. He promptly traded the hockey rink for the climbing gym, and was soon competing on the Swiss junior climbing team. Steck was always a gifted rock climber, capable of climbing at a high level. In fact, in 2009, for his honeymoon, he free climbed "Golden Gate," a 3,000-foot 5.13a on El Capitan in Yosemite National Park, California, with his wife. Steck's near "onsight" turned heads earned him respect among the typically unfazed Yosemite denizens.

Everest is and always will be dangerous," says Richards. "Tragic as it is when we lose people, it's important that we remember that the very reason we go to the high mountains is to approach that edge. Doing so amplifies what it means to live.

Steck's real passion, however, was for the mountains—moving light and fast and covering as much terrain in a single push as possible. He trained for his biggest Himalayan ascents by running and soloing in the European Alps. One of his favorite outings was to speed climb the infamous Eiger Nordwand ("North Face"), an historic feature first climbed over four epic days in 1938. Steck first soloed the Nordwand when he was 28 years old, taking just 10 hours. Over the years, he continued to improve his time, ultimately racing, in 2015, to the Eiger summit in just 2 hours 22 minutes and 50 seconds—a standing record.

Steck's career was not without controversy. In 2013, he was acclimatizing on Everest with Simone Moro, a famous high-altitude mountaineer and helicopter pilot from Italy, and Jonathan Griffith, an English climber and photographer. The trio made the decision to climb above a team of rope-fixing Sherpas, an action to which the Sherpas took offense. An altercation ensued at a lower camp in which a large, angry group of working Sherpas confronted the European climbers, and ultimately hurled rocks at their tents.

To many, Steck will always be remembered as the Swiss Machine—a powerful, rare animal stretching its formidable legs and lungs across an impossible mountain sweep. But to those who knew him, he was much more. As British journalist Ed Douglas, who has covered Steck's career over the years, wrote on Twitter:

"One thing Ueli Steck wasn't and that's a machine. Warm and at times surprisingly fragile. But not a machine."
Run the Year Motto:  EVERY day's a run day, 2017 miles in 2017
April 2017 update: the magic of FOUR – 4th solid month of running (haven't missed a day in 2017), 4th consecutive 200-mile month (already matched my 2016 best), finished 4 more marathons (in 3 different time zones).
4th year marathoning, scored my BIGGEST month ever – 279 miles – NEVER logged so many [miles] in a single month.
May focus: NUTRITION  #bighorn52
from marathoner to ultra runner: Bighorn training has commenced.  Calendar marked/circled/bolded in Sharpie: June 17th.  52 miles at altitude along the Wyoming/Montana border.  100% trail, HUGE elevation climbs, nothing lower than 9000ft.
Nutrition.  Have yet to solve the riddle, [expecting a] 15 hour run day.  Must learn to eat while running – or I'm doomed.
Race ReCap:  2 COLORADO marathons: Westminster's Beat the Heat Marathon & Runs with Scissors in Brighton (finished 3rd place male).  2 COLD, high wind, HILLY runs: Savin Rock Marathon (in West Haven CT) & this weekend's Oklahoma City Memorial Marathon.
Streaks:  128 consecutive run days, 41 months marathoning
Mileage ReCap:  fourth 200+ mile month, ended April at 853 miles (181 miles ahead of goal)
Run the Year – May Newsletter

You are an inspiration! You might not be aware of the impact you have on those around you, but the fact that you have made fitness a priority in your life inspires others. When they see what you are doing, they start to believe that they can do it too.

"The bigger you dream, the bigger the challenges you take, the more inspirational you become!"